Machine Readable Passport (MRP) Section at Embassy of Pakistan, Stockholm is accepting applications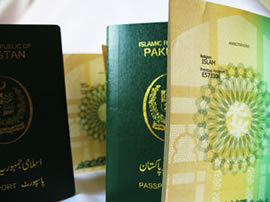 Apply for Machine Readable Passport (MRP) in Embassy of Pakistan, Stockholm
Requirements for Adults' (18 years and above) application processing
Personal appearance of the applicant
Production of one of the following original valid NADRA Cards along with its photocopy:

Computerised National Identity Card (CNIC)
National Identity Card for Overseas Pakistanis (NICOP)
Smart National ID Card

Original previous Passport with its photocopy (for renewal applications)
Swedish residence permit
If you do not have a valid CNIC, NICOP, Smart National ID Card or CRC please apply for one of these NADRA documents and proceed for MRP application after you have received it.
Note: All of the above mentioned documents should be provided original along with 1 photo copy of each document.
Married female applicants are required to produce original CNIC / NICOP / Smart National ID Card containing their husband's name. They would otherwise be required to get their CNIC / NICOP / Smart National ID Card modified in accordance with their marital status before applying for MRP.

Pakistan Government employees are required to produce original No Objection Certificate (NOC) issued with in last ninety (90) days by their respective Ministries / Divisions / Departments.
Requirements for Children (below 18 years) application processing
Personal appearance of the applicant
Applicants under 18 years of age must be accompanied by either one of the parents
Production of one of the following original valid documents along with its photocopy:

National Identity Card for Overseas Pakistanis (NICOP)
Computerized Child Registration Certificate (CRC/Form B) issued by NADRA

Previous Original Passport with its copy (for renewal applications)
Parents Pakistani Passports and valid Swedish residence permits or Swedish passports
Extract of population register (Personbevis of the child) from Skatteverket/ Maistraatti in English.
Form Form S1 (Certificate of Registration & Birth)
Attestation by Father/Mother on the form
Note: All of the above mentioned documents should be provided original along with 1 photo copy of each document.
In case parents are separated or divorced, the custodian father or mother is required to produce court orders confirming his/her legal right of custody of the child.
Instructions for Machine Readable Passport by visiting the Embassy (timing 09:00 to 11:30, Monday to Friday), by phone (timing 14:00 to 17:00, Monday to Friday) or by email passport@pakistanembassy.se
Fees for Machine Readable Passport
Validity

Pages

Ordinary ( 20 days )

Urgent ( 10 days )

5 years

36-page

SEK 330/-

SEK 550/-

72-page

SEK 600/-

SEK 1000/-

100-page

SEK 660/-

SEK 1310/-

   (10-Year Validity Passports Issued only to the applicants of age 15 years and above)

10 years

36-page

SEK 600/-

SEK 1000/-

72-page

SEK 1100/-

SEK 1770/-

100-page

SEK 1200/-

SEK 2360/-
Fee Instructions
Facility for making payment by Credit/Debit Card is available at the Embassy. MRP Fee is not accepted in cash at the MRP section of the Embassy.
Cash can be deposited in Embassy's SEB Account no 5277 10 109 68
Full name of the applicant must be written clearly on the Bank slips.
Passport Delivery
Normal Passport = 20 Days
Urgent Passport = 10 Days
Applicant has to visit personally to collect the passport; however, family member (Parents, Spouse and Sibling) may also collect the passport upon proving identity.
Please bring your Original Token and Previous Passport at the time of collection.
No passport can be sent or posted to home address and it has to be received from the Embassy
In Case of Lost Passport
Police Report for the lost passport and valid Visa or Residency proof from the Immigration Department.
First Time Lost: Double fee will be charged.
Second Time Lost: Quadruple fee will be charged.
Third Time Lost: The applicant will be issued an emergency passport for returning to Pakistan.
MRP Application Flow
Submission of Fee at Embassy (by Debit/Credit Card) or at Bank
Token issuance and photograph
Biometric Data Capture
Data Entry
Interview and Decision
Collection of Passport (at due date)

Important Public Notice for MRP
Machine Readable Passport (MRP) services are entirely based on technical system. Sometimes that system can abruptly breakdown due to sudden unforeseen technical reasons.
In such situation, MRP services are discontinued without any notice.  Therefore, applicants who come on such day to the Embassy for MRP will have to come on another day when the MRP system is restored and functional.
Cooperation of the applicants in such extra ordinary circumstances is highly appreciated.
Applicants who belong to Finland or other far-distant cities may provide registered envelope from Sweden Post Office with their written addresses. They are also required to provide their last passport and original token along with the envelope.
Manual passports

In view of the ICAO deadline for non-acceptance of manual passports with effect from 23 November 2015, all Pakistanis living in Sweden and Finland are advised to get their manual passports replaced with the Machine Readable Passports (MRPs) as soon as possible to avoid any inconvenience during or before travel. It is further informed that this Mission has started issuance of MRPs since August 2015.
For information about passports related questions, please email us on 

passport@pakistanembassy.se
If You would like to get a specific appointed time for Your visit, You can email us on
appointment@pakistanembassy.se 
The status of Your passport if it has been delivered to the Embassy can be checked online: 
http://pakistanembassy.se/check-passport-status/